Description
Highlight
The skin-brightening essence of Alpha-arbutin and Tahiti black pearl permeates deep skin layer to even-out skin tone for boosted luster.
Infused with Pro-Xylane and rose oil, it has anti-oxidative efficacy which helps improve signs of sagging skin, nourishes and tone-up skin. Long-term use reveals smoother, tender and more elastic skin.
Containing Mageline iconic ingredient MAIFUYIN, with groundbreaking fermentation process of 10x concentration, it moisturizes skin to fade fine lines, helps brighten skin complexion and shrink pores, revitalizes skin, leaving it brighter, smoother and firmer.
一拍亮肤美颜,立现匀亮光泽。蕴含a熊果苷和大溪地黑珍珠亮肤精华, 能沁入肌底, 均匀肤质, 使肌肤立现匀亮光泽。
凝聚玻色因艹和玫瑰花油, 具有抗氧化功效,改善肌肤松弛,润养肌肤,调理肤质。
长期使用令肌肤平滑细腻,柔嫩透亮,富有弹性。

添加麦吉丽明星成分麦肤因®,突破性10倍 浓缩"发酵工艺,淡化细纹,提亮肤色,补水保湿,收缩毛孔,焕活肌肤,令肌肤细腻透亮,紧致饱满。
---
Click here or scroll down for English Read-Up
NOBLE LADY CREAM THAT HAVE SOLD OVER 27.60 MILLION BOTTLES
(since year 2014- Apr 2023)
---
---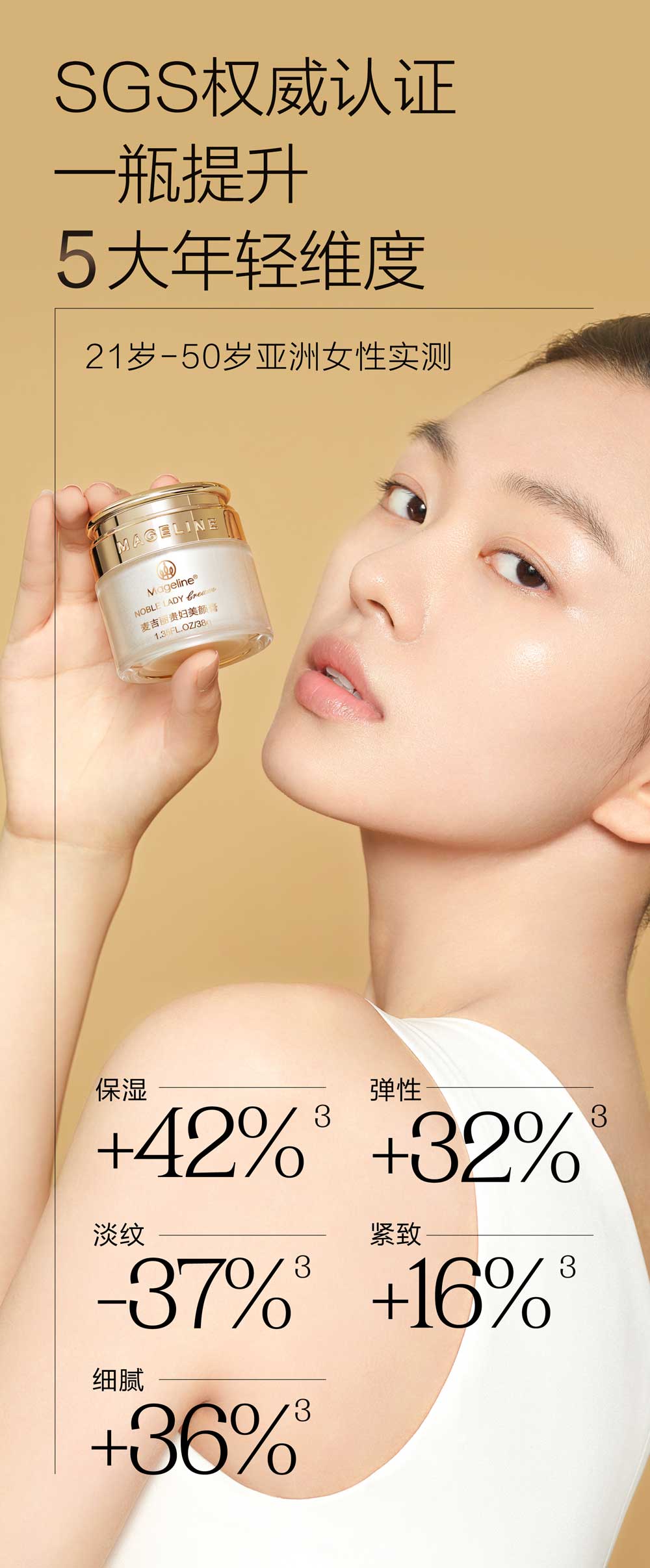 ---
---
---
---
---
---
---
---
---
---
(English version)
MAGELINE NOBLE LADY CREAM
(new advanced formula)
INSTANT BRIGHTENING | LASTING NOURISHING
________
A bottle Improves 8 Skin Concerns
| | |
| --- | --- |
| 1. Yellowish Skin | 5. Acne Marks |
| 2. Roughness | 6. Dullness |
| 3. Fine Lines | 7. Blemishes |
| 4. Enlarged Pores | 8. Sagging Skin |
Highly recommended to:
People with tired and aging appearance, seeking to brighten their skin and improve dullness.
Individuals with acne scars and blemishes, aiming for even, clear, and radiant skin.
People with sagging skin and fine lines, looking to restore firmness and plumpness.
*** *** ***
27.6 million bottles sold ~ source from internal brand data, all sales channel cumulative result since the launch of product till April 2023.
---
Tested data from SGS, report no:XMCPCH220500691-1.2.
Actual results may vary between individuals.
---
Instant Brightening
________
Noble lady cream helps Conceal blemishes & Refines pores
Over time application, it nourishes skin greatly,
leaving you with beautiful fair bright skin without foundation, BB or CC cream.
~ 50 Micron Tahiti Black Pearl ~
larger than pores so that it is non-clogging and non-comedogenic
~ Staying fit and nice on skin ~
8 hours lasting moisture and radiant
A little goes a long way
Leaving you with silky smooth glowing skin
Unlike foundatin or BB CC cream, it would not transfer
---
Lasting Nourishing
________
Mageline Pro 4D-BRIT tech
Packed with brightening properties that nourish and help inhibit pigmentation from basal layer
Alpha Arbutin is a popular choice in skincare products aimed at addressing dark spots, melasma, and other forms of hyperpigmentation, helping users achieve a more even, brighter, and youthful complexion.
Derived from the bearberry plant, it is a popular skin-lightening agent.
It is considered safe, non-irritating and well-tolerated by most skin types, including sensitive skin.
~ Licorice Root Extract ~
Derived from the licorice plant (Glycyrrhiza glabra), it has been used for centuries in traditional medicine and skincare remedies.
The main benefit on the skin is its ability to brighten and even out the complexion.
It inhibits the enzyme responsible for melanin production. This helps to reduce the appearance of dark spots, hyperpigmentation, and sun damage, leading to a more radiant and uniform skin tone.
Licorice Root Extract has anti-inflammatory and soothing properties, making it an excellent choice for sensitive or irritated skin. It can help calm redness and inflammation.
Nonapeptide-1 is a skincare ingredient primarily known for its skin-brightening and pigmentation-reducing properties. It is a peptide, a short chain of amino acids.
The main benefit of Nonapeptide-1 is its ability to inhibit melanin synthesis in the skin.
~ Panax Ginseng Root Extract ~
Panax Ginseng Root Extract offer various advantages such as antioxidant, anti-aging, brightening, rejuvenating, soothing and moisturizing.
---
Accelerate Firming and Smoothing
28 Days for Youthful Radiance
________
94.4% high purity anti-aging MAIFUYIN
***
MAIFUYIN is the patented soul ingredient of Mageline, it's a rice fermented filtrate with purity as high as 94.4%
98% purity Pro-Xylane
***
Pro-Xylane refers to Hydroxypropyl Tetrahydropyrantriol.
Pro-Xylane aims to counteract the signs of aging, improve skin density, and restore a more youthful appearance.
Particularly targeted at addressing concerns such as fine lines, wrinkles, and sagging skin.
REGU-FLASH peptide
***
REGU-FLASH refers to Dunaliella Salina Extract (Green algae), Palmitoyl Tripeptide-5, Panthenol, Sodium Hyaluronate
Dunaliella Salina Extract is a skincare ingredient derived from the microalga Dunaliella salina, which is a type of green algae.
This unique microorganism is known for its ability to survive in extreme environments, such as highly saline waters and intense sunlight, by producing high levels of carotenoids.
These carotenoids have various benefits for the skin, including Antioxidant protection, Skin brightening, Hydration, Soothing and anti-inflammatory.
Palmitoyl Tripeptide-5 is thought to signal the skin to produce more collagen, a structural protein responsible for skin firmness and elasticity.
Increased collagen production can lead to firmer, plumper, and more youthful-looking skin, reducing the appearance of fine lines and wrinkles.
It also improves skin hydration, help smoothen the skin's texture and reduce the appearance of roughness or unevenness.
It can help combat the visible signs of aging and promote a more youthful complexion.
---
Creamy mousse texture
Moist yet Not oily
________
Pat to even-out
Non-cakey
Makeup removal is not required
---
Simple 3 Steps for Flawless Skin
---
QA1 ~ What are the main upgrades of this latest advanced formula Noble Lady Cream?
This 2nd-generation Noble Lady Beauty Cream has undergone 3 major upgrades:
(1) More long-lasting glowing, brighter result:
It is formulated with carefully selected micron-sized black pearl powder from Tahiti. Giving skin 8 hours hydration, leaving skin radiant, significantly improve dullness, non-comedogenic, water-resistant and stay well on skin whole day long.
(2) Long-term beauty and nourishment with faster and more remarkable results:
It utilizes the advanced 4D-BRIT® Brightening Technology to accelerate skin rejuvenation from within, reducing acne scars, dullness, and blemishes, achieving a radiant complexion within 28 days.
(3) Diminishing wrinkles, anti-aging, and increased firmness:
This new formula includes 94.4% high-purity anti-aging MAIFUYIN™, 98% pure Pro-Xylane, and anti-aging firming peptide REGU-FLASH®. These ingredients synergistically combat aging, accelerate collagen production, and result in a firmer and plumper bare skin.
QA2: Is it suitable for all skin types?
Noble lady cream is not suitable for oily skin, severe acne-prone skin or hyper-sensitive skin. As this product is rich in nutrients, it is recommended to first repair the skin to a healthy state before using it.
QA3: Can it be used at night?
Yes, it can be used at night, but it is more recommended for daytime use.
Night time is to replace with a more liquid moisturiser.
After application, it not only instantly brightens the skin tone but also provides a natural and even complexion without makeup. Long-term use can improve dullness, roughness, blemishes, acne scars, and fine lines, promoting firmness and anti-aging, leading to refined, glowing, and flawless youthful skin.
QA4: Do I need to apply sunscreen after using it?
Yes, you need to apply sunscreen separately. Noble Lady Cream is a high-nutrition facial cream with excellent brightening and nourishing effects, but it does not provide sun protection. Therefore, it is advisable to pair it with a lightweight sunscreen during the day to protect the skin from UV rays and photoaging, promoting a youthful and radiant appearance.
Reviews (4)
view all
back