Description
Highlight
Replenish moisture and collagen.
Skin repair (suitable for after-sun care, sensitive skin, acne & pimples)
Suitable for All skin types (Safe for pregnant women, breast-feeding moms)
补水嫩肤 修复 (晒后、过敏、粉刺痘痘等)
适合肤质:各种肤质 (孕妇,哺乳期女性,不耐受性肌肤均可使用)
---
---
---
---
---
---
---
---
---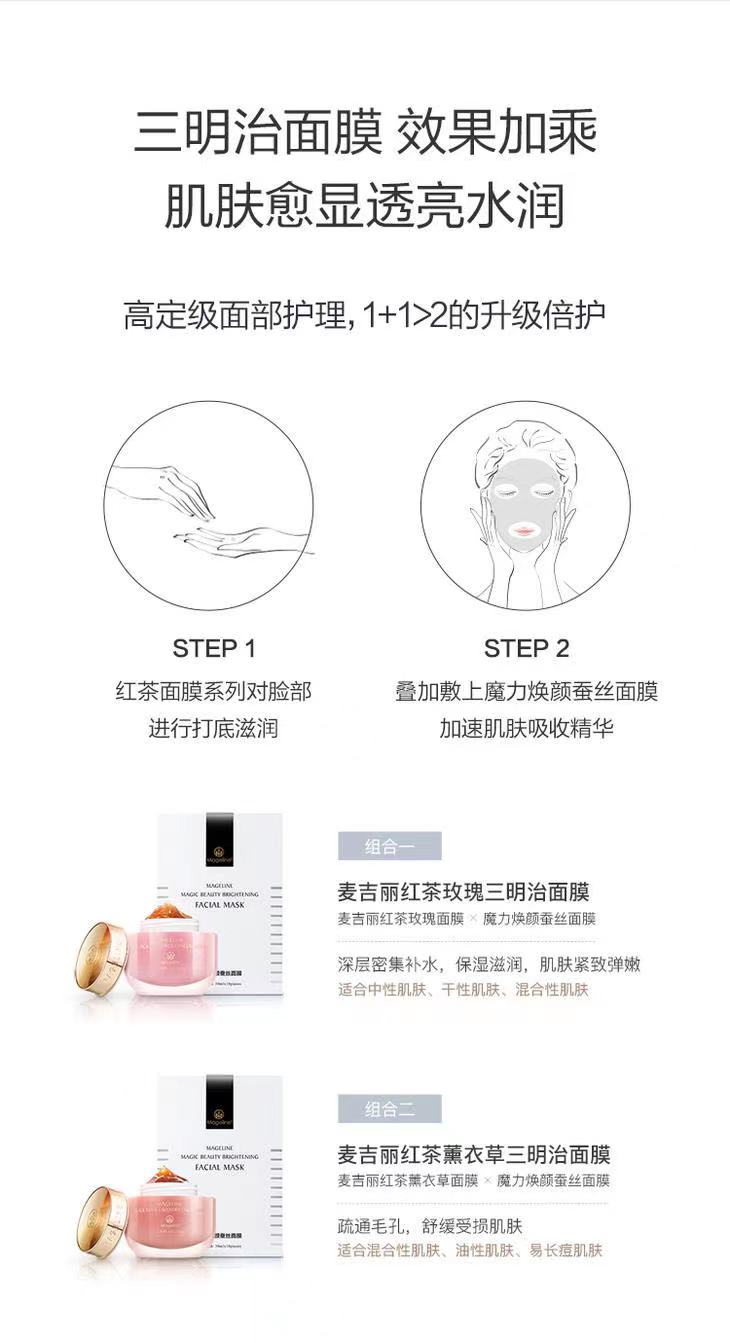 ---
---
---
MAGELINE MAGIC BEAUTY BRIGHTENING MASK
______
This is the right mask for you if you have below concerns:
1. Wrong mask size, can't fit whole face completely
2. Skin feel stuffy and unbreathable with uncomfortable mask fabric
3. Poor essence penetration with no obvious skin improvement
0.1mm Ultra-thin Mask
For plump and supple skin
Deeply hydrating with Firming and Brightening properties
Oil controlling
Help relief Sunburn
---
The No.#1 Best Selling mask of all Mageline mask range
Skin feels rejuvenating after one piece
Leaving skin supple, deeply hydrating and elastic after 15 minutes
---
1 piece of Mask = 1 bottle of 30ml serum
Infused with 30ml serum for hydration boost
Fading dry lines and fine lines: Hexapeptide penetrates skin intensively to provide anti-wrinkle benefits and awaken skin vitality
Strenghtening water-retain skin barrier: Double Hyaluronic Acid replenishes double moisture to relieve thirsty skin
Regains suppleness: Hydrolyzed Collagen replenishes micro collagen to improve roughness and dullness
Intensively hydrating and nourishing skin, replenishing water in the skin, and to promote healthy skin regeneration
---
Unique icy cold formula makes your skin feel cool and soothing, and repairs damage skin caused by the sun
For the acne-prone:
Hamamelis Virginiana (Witch Hazel) controls oil and shrinks pores to relieve redness and minimise large pores
Brightens skin:
Glycyrrhiza Uralensis (Licorice) Extract fades dullness and lighten flaws for supple luminous skin
Cooling and calming:
Menthol Extract repairs damaged skin after sunburn, speeds up redness and relieve hot burn sensation
---
Ultra Slim Silk Mask
______
Using ultra-thin 384 natural silk mask with porous fibre to effectively lock in moisture content, deep penetration into skin layers to replenish water
0.1mm mask leaves skin breathe freely, silky and softness feeling
360 degree fits your face contour perfectly, more elastic and tough than non-woven mask.
It is adjustable and stretchable to the face contour.
Porous fiber locks-in serum for lasting hydration
Light texture, thin, soft, breathable, transparent, feels like the invisible second skin layer.
---
Reviews (10)
view all
back