Description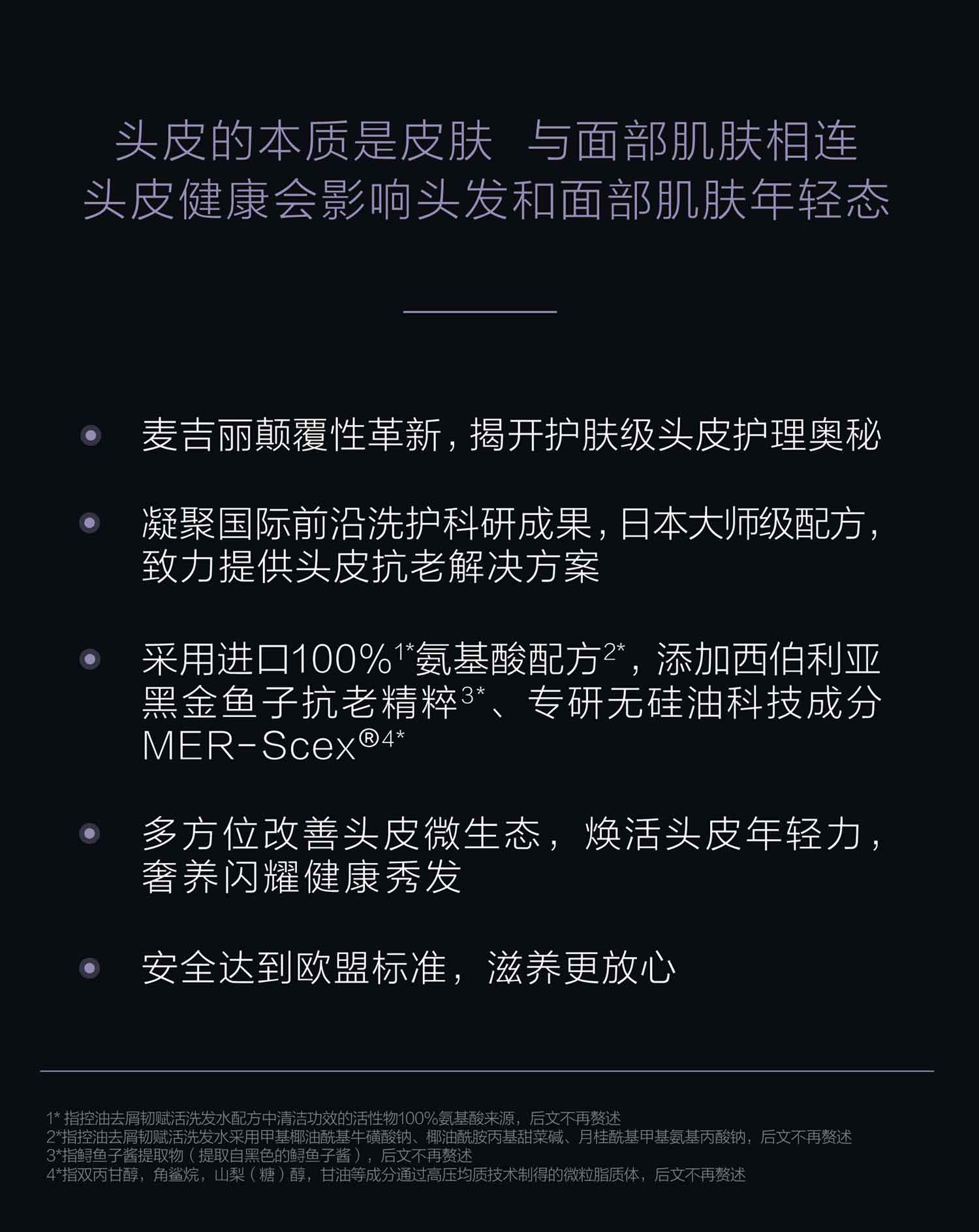 MAGELINE BLACK GOLDEN CAVIAR HAIRCARE SERIES
IMPORTED 100% AMINO ACID FORMULA
HAIR IS SMOOTH AND LUSTROUS
__________
Scalp is also an extension of our facial skin. The healthiness of scalp affects how youthful our hair and skin is. Mageline's edgy innovation research unlock the secret of Scalp care that should just be like how we care for our skin.
MagelineMY.com
Gathering international cutting-edge research achievements in haircare, with the master formula from Japan, Mageline is committed in providing the best scalp anti-aging solution.
Nourishing and Repairing Hair Mask is silicone free with 100% fully imported amino-acid formula, balances scalp microbiome, revitalise scalp, giving you a healthy volumised hair
Innovative silicone free technology MER-Scex activates scalp vitality, nourishes and conditions hair strand.
It is recognised EU safe standards, paraben free and formaldehyde free, overall a mild and safe shampoo not to miss.
---
SOS HAIR MASK
INTENSIVELY REPAIR DAMAGED HAIR DUE TO CHEMICAL HAIR TREATMENT
JUST 1 TIME and 3 MINUTES
are all you need to regain that smooth lustrous hair
Save your time and money spent. Do away without the hassle of regularly visiting hair salon for hair nourishing treatment.
---
Dry damaged hair improves by 99%. Hair resilience improves by 25.4%。 Giving you a luxurious SPA like salon treatment at the comfort of your home
Highly concentrated nourishing essence intensively repair damaged hair, leaving you with smooth silky hair instantly
Offering 3 in 1 result to instantly deeply "Nourish-repair, Lock-in Moisture & Protect" your dry damaged hair
---
THE REPAIRING ENERGY OF IMPORTED SIBERIAN BLACK GOLDEN CAVIAR FROM FRANCE
INNOVATIVE SILICONE-FREE MER-SCEX TECHNOLOGY
________
Deep repairing power to quickly fill up hair cores hollow so as to improve hair texture,
leaving your hair strong and bouncy
Enhances hair keratin, helps reduce friction, prevent static, rejuvenate hair moisture-retention power, giving you a smooth easily manageable hair.
---
FOUR CONCENTRATED IMPORTED REPAIRING EXTRACTS
Intensively repairing and preventing hair damage from blow drying, styling or colouring.
No more tangling dry damaged hair
---
--01-- Excellent repairing and restoration power
Hair before and after Nourishing Repairing Hair Mask
--02-- Nourishing dull fuzzy dry hair to smooth glosy hair
--03-- Light creamy texture that is easily rinsed off
---
HOW TO USE
________
After shampoo, towel dry, take an appropriate amount of the mask and evenly apply to the hair, avoiding scalp area.
Gently massage into hair and leave on for 5 minutes. Then rinse off with plenty clear water. For better result, use it after hair conditioner.
---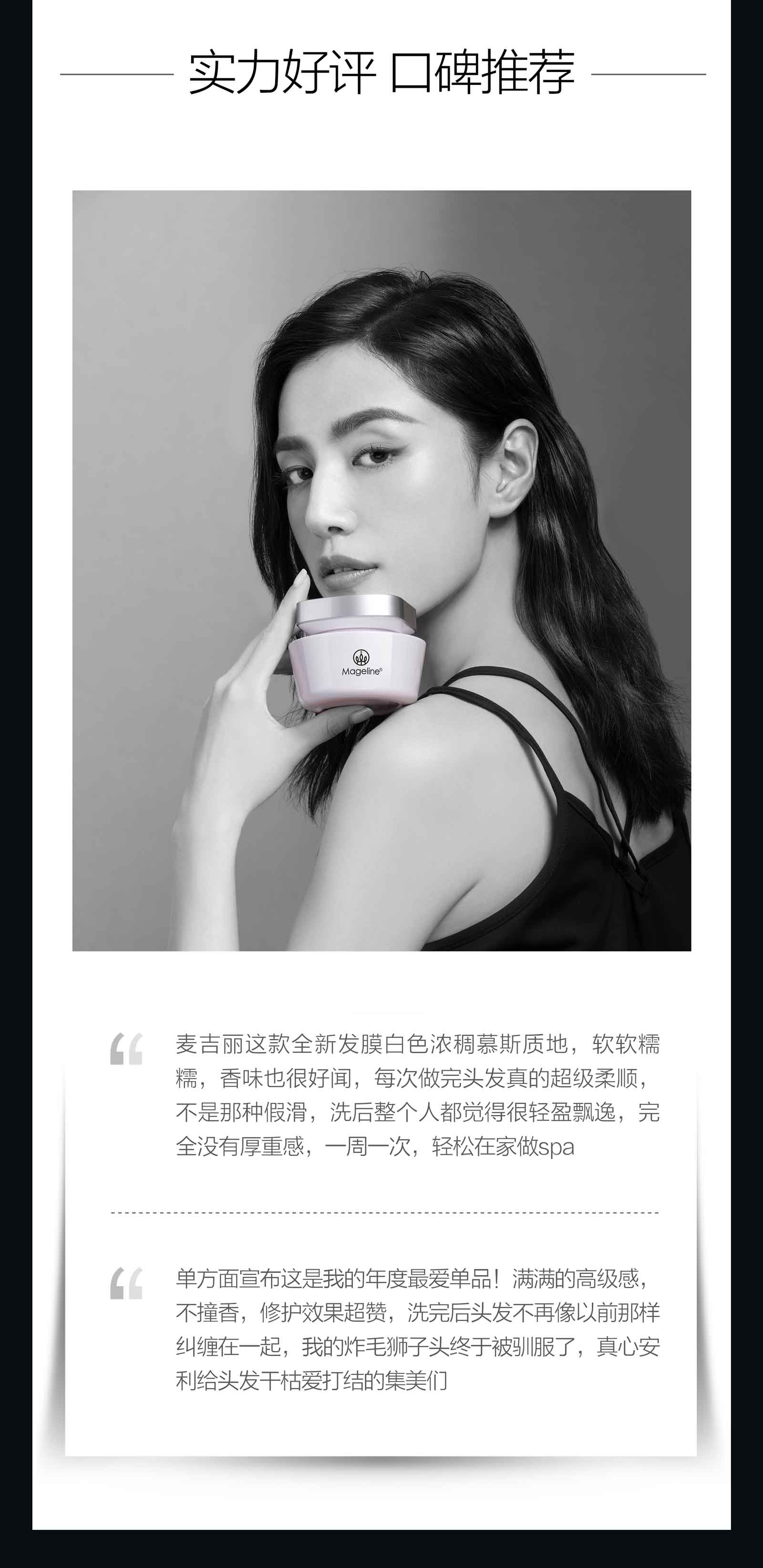 ---
Reviews (0)
view all
back