Description
Highlight
Moisturising, Soothing and Repair Skin, Even Skin Tone, Gentle and non-irritating formula.
Suitable for All skin types, especially those with sensitive and poor tolerance skin.
Safe for pregnant women and breast-feeding moms.
补水保湿 舒缓修护肌肤 均匀肤色 温和不刺激
适合肤质:各种肤质,特别是耐受性差的肌肤 (孕妇,哺乳期女性皆可使用)
2021 Newly Upgraded
Mageline Moisture Soothing Essence
Instantly Nourishing + Soothingly Repair
Long hours moisturising, nourishing, soothing and repair skin
---
PRODUCT SPECIFICATION
产品说明
________
Are you encountering these problems?

你是否总是遇到这样的问题?

Issue 1

Sensitive fragile redness skin?

问题1

肌肤受损易泛红?

Issue 2

Moisturising skincare is hard to absorb?

问题2

补水不易吸收?

Issue 3

Skin still feel dry and tingling even after applying 3 to 4 layers of skincare products?

问题3

护肤品涂三四层,依旧干燥刺痛?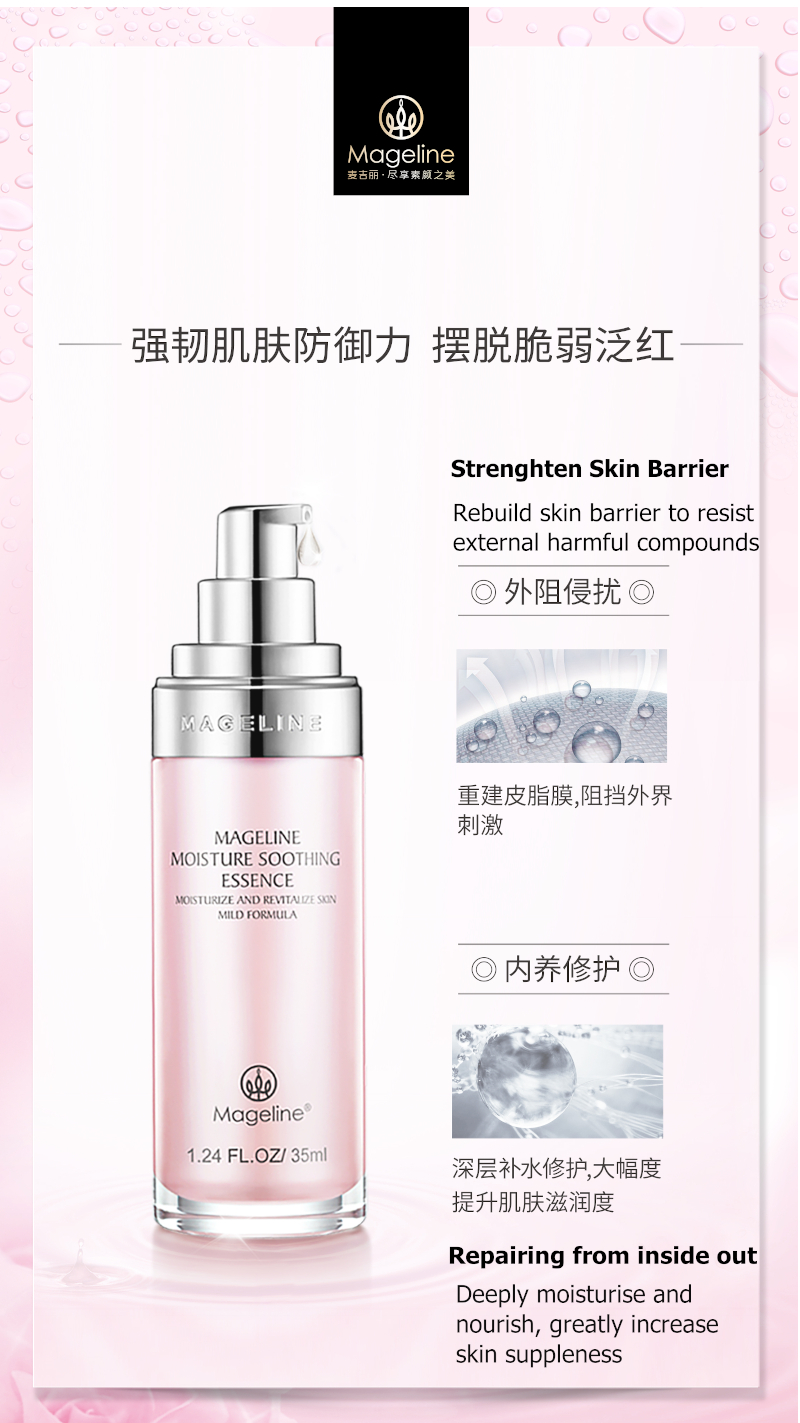 ---
Soothing & Repair 舒缓修护

———————

Reconstruct skin sebum, improve skin dryness, sensitivity and redness.

重建肌肤皮脂膜,改善肌肤干燥易敏、脆弱泛红等现象。

Supple & Nourishing 水嫩润养

———————

Deeply hydrating and lock-in moisture, smooth out fine lines, dry lines, leaving skin elastic and radiantly smooth.

深层补水保湿的同时淡化干纹、细纹,使肌肤光滑有弹性。

Even Out Skin Tone 均匀肤色

———————

Improve skin dullness, brighten up skin tone, giving you a glowing, dewy crystal clear skin as days go by.

改善暗沉,提亮肤色,日复一日肌肤绽放水润光泽,晶莹通透。
---
---
REJUVENATE YOUR RADIANT SKIN
Ceramide Complex
Strengthen Skin Basal Layer
MagelineMY.com
3 types of ceramide, balancing skin layer, improve moisture retention power,
resolve dryness from inner layer, repair skin barrier,
defending our skin from external harmful factors,
nourishing your skin to a strong healthy condition
---
HIGHLY NOURISHING INGREDIENTS ~LIPIDURE
LONG LASTING MOISTURISING SKIN
________
MagelineMY.com
1. Contain LIPIDURE, a highly nutrition ingredient with 2 times moisture lock-in power as compare to hyaluronic acid. Penetrates deep into skin layer to balance skin moisture-sebum level, effectively retains and locks in moisture, protect skin from dehydration.
2. Prevent PM2.5 attachment, protecting skin from external irritants.
PM2. 5 refers to particles that have diameter less than 2.5 micrometres (more than 100 times thinner than a human hair) and remain suspended for longer. These particles are formed as a result of burning fuel and chemical reactions that take place in the atmosphere.
---
Gentle and Non-irritating Formula
A Must Have for Sensitive Skin
__________
| | |
| --- | --- |
| 1. No Animal-related Materials | 2. No Mineral Oil |
| 3. No Paraben | 4. No Alcohol |
---
PRODUCT EVALUATION
产品评测
________
Texture 质地评测

Silky light and smooth texture, deeply hydrating and lock-in moisture, rebuild skin resilience layer, soothes and repairs skin.

丝滑柔润质地,深层补水保湿,重建肌肤皮脂膜,舒缓修护肌肤

Moisturing Test 保湿度评测

BEFORE 使用前

Skin moisture content 37.9%, sebum content 25.3%, an imbalance skin condition

皮肤含水37.9%,含油25.3%,水油不平衡肌肤偏干

AFTER 使用后

Skin moisture content 42.3%, sebum content 28.3%, a balance skin condition

MagelineMY.com

皮肤含水42.3%,含油28.3%,水油达到平衡

PH Test PH值测评

Pump out essence onto PH test paper. Reading showed a mild gentle formula between 5 to 6

将水养润护精华滴在PH纸上,如试纸所示PH值在5和6之间。温和不刺激
---
INGREDIENTS
产品成份
______
CERAMIDE COMPLEX content helps strengthen skin resistance level. Highly moisturising from inside out, intensive care for dry and dehydrated skin.

MagelineMY.com

神经酰胺复合物,肌底强韧防御力。由内而外高保湿,呵护干燥缺水肌。

升级配方也含有高滋养成分Lipidure,肌肤长效保湿。 深入肌肤达成水油平衡,蓄水更锁水

Witch Hazel Leaf Extract 北美金缕梅叶提取物

Regulates skin moisture-sebum level, repair and soothing, keeping skin healthy and silky smooth

MagelineMY.com

调节皮肤水油平衡,舒缓修复,保持健康柔滑

Rapeseed Leaf Extract (Cynara Scolymus) 菜蓟叶提取物

Targeted to improve large pores from multi-aspect, relieving skin tingling and redness sensation

MagelineMY.com

多方面并针对改善毛孔粗大,舒缓泛红刺痛

Glycyrrhizinate 甘草酸二甲

Penetrate into skin layer to retain its vitality and luminescent

MagelineMY.com

深入肌肤内部保持高活性,嫩滑透亮
---
HOW TO USE
用法用量
______
After cleansing, pump out appropriate amount of essence onto your palm

Apply with an upward lifting massage method throughout the face

洁面后 ,取适量精华在掌心温热后

以提拉按摩的手法涂抹面部即可
---
FEEDBACK
______
"a very refreshing essence, absorbed fast into skin, leaving skin so relaxing, love love love!"
"very gentle and soothing, with great hydrating and moisture retention power, skin feels soft and smooth, no more tingling sensation, i'm ready to get in the whole moisturising soothing set"
---
Reviews (4)
view all
back